New Updates:
**IMPORTANT NOTICE**
PLE Annual Meeting  November 6, 2021 
Montgomery County High School @ 9:00 AM. 
Click the link below to see the Board of Trustees' announcement regarding Lake Preservation beginning June 1, 2021.
Lake Preservation Announcement
2021 Spring & Summer Office Hours:
Mondays, Tuesdays, & Thursdays             8:30 am – 12:30 pm
1st  & 3rd Saturday of the Month               8:00 am – 12:00 pm
Our office will be closed on the following holidays: Memorial Day, Independence Day, Labor Day, Thanksgiving, and Christmas.
Please note Cheryl will be gone on vacation and unavailable: June 4th – 6th and September 16th – 25th, the office will reopen September 27th.
You can contact the office by leaving a message at 636-585-2226 or emailing the office at pleoffice@centurylink.net
Monthly Board Meetings are the 1st Saturday of the Month and start @ 9:00 am. No office business will be conducted during the Monthly Board Meetings.
Boat Dock Inspection and BID Information:

Per the 2019 – 2020 PLE Board Members request, Tiger Docks came out to inspect the current anchoring system on our dock.  Please use the links below to review their inspection, and see the bid received with the recommended repairs.  
20 0930 Dock Anchoring Report (1)
20 0929 EXISTING ANCHOR LAYOUT 20-218
Tiger Docks Anchoring Addition BID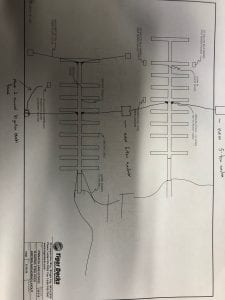 Assessment Reminder:
Annual Assessments were mailed on Friday, May 21, 2021. Please contact the office if you have not received yours. Annual Assessments are due July 1, 2021. 

Yearly Assessments are now due July 1st of each year.   In 2017 Yearly Assessments were approved to increase 3% each year for five years. Assessments for the year 2021 are $366.00 for Primary Lots and $80.00 for Secondary Lots.  The Special Assessment for Lake Dredging is $275.00 per year, due March 1st of each year, for the next three years.  Any questions or to receive your balance please contact the office during business hours.  The next newsletter will be mailed in August 2021.

The board received a request from a lot owner, to provide a spending plan for the Special Assessment for Lake Dredging. Please see the letter of request below. 
Special Assessment Money Spending Plan – Request from a lot owner
Fish Stocking:
On October 31, 2019, we put 450 9″- 12″ Catfish, 200 4″- 6″ Red ear Sunfish, and 200 4″-6″ Black Crappie into the lake. If you catch any of these please return them to the lake. Remember, release bass that is between 12" – 15". These are the breeding fish. Anglers are encouraged to remove bass that is less than 12".