New Updates:
There will be NO OFFICE HOURS on Tuesday, March 23, 2021. Sorry for any inconvenience.
2021 Spring & Summer Office Hours:
Mondays, Tuesdays, & Thursdays             8:30 am – 12:30 pm
1st  & 3rd Saturday of the Month               8:00 am – 12:00 pm
Our office will be closed on the following holidays: Memorial Day, Independence Day, Labor Day, Thanksgiving, and Christmas.
Please note Cheryl will be gone on vacation and unavailable: June 4th – 6th and September 16th – 23rd.
You can contact the office by leaving at message at 636-585-2226 or emailing the office at pleoffice@centurylink.net
Monthly Board Meetings are the 1st Saturday of the Month and start @ 9:00 am. No office business will be conducted during the Monthly Board Meetings.
Boat Dock Inspection and BID Information:

Per the 2019 – 2020 PLE Board Members request, Tiger Docks came out to inspect the current anchoring system on our dock.  Please use the links below to reveiw their inspection, and see the bid received with the recommended repairs.  
20 0930 Dock Anchoring Report (1)
20 0929 EXISTING ANCHOR LAYOUT 20-218
Tiger Docks Anchoring Addition BID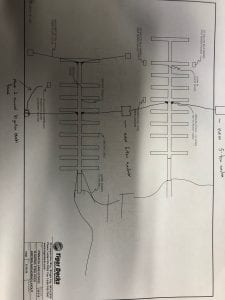 JULY BOARD MEETING UPDATE:  The July board meeting will be held @ the PLE Pavilion @ 9:00 AM.
JUNE BOARD MEETING UPDATE: The June board meeting will be held on June 13, 2020, 9:00 AM @ the PLE Pavilion.
COVID-19 Update 05/11/2020
Due to the ongoing Social Distancing guidelines and the health and safety of all lot owners and PLE Staff, please note the following changes at PLE
1) Courtesy Guards will assist you at gates as needed and follow social distancing guidelines so please approach the guard shack store window at the main gate for items needed.
2) Office will remain closed to in office visits, during office hours please utilize the slide window for items needed. Please email the office if you have any questions that can be answered via email and does NOT require in person visit.
3) Porta Potties with hand sanitizing stations are being placed in locations such as boat docks, campgrounds and beach areas to be utilized.
4) Bath House is closed until we are able to ensure the safety of all lot owners.
Enjoy the great outdoors and all that your space at PLE has to offer. Remember to stay socially distant in all areas of PLE.
Recreational Events:
The Bragging Rights Fish Tournament will continue as planned.
The Poker Run is Canceled.
We will be watching local and state health guidelines and will keep you posted of any further changes to the Events.
Thank you,
PLE Board of Trustees
**MEETING ANNOUNCEMENT**
PLE May Board Meeting via Zoom
Topic: PLE Zoom Meeting
Time: May 2, 2020 09:00 AM Central Time (US and Canada)
IMPORTANT NOTICE: Update concerning COVID-19
 Due to State ordered Public Health Advisory-All common areas are closed until further notice. 
"Stay Home Missouri" Order effective beginning at 12:01 a.m. on Monday, April 6, 2020, until 11:59 p.m. on Friday, April 24, 2020.
The Order explicitly states that individuals currently residing within the state of Missouri shall avoid leaving their homes or places of residence unless necessary.
" Governor Parson said. "I cannot emphasize enough how important it is for all citizens to practice social distancing and abide by this order, which is backed by intense deliberation and knowledge."  This Order does not prohibit people from visiting a variety of places, including grocery stores, gas stations, parks, and banks, so long as necessary precautions are taken and maintained to reduce the transmission of COVID-19, including maintaining at least six feet (6') of distance between all individuals that are not family members.
Thank you,
PLE Board of Trustees
Update 03/30/2020: The Monthly Board Meeting scheduled for April 4, 2020, has been canceled.
Office Hours: Update 03/19/2020

Coronavirus COIVD-19 Statement:
As the situation around coronavirus (COVID-19) continues to evolve and numbers
continue to ramp up due to increased testing and continued travel associated cases
being reported, we want to be sure you are informed about the safety of our community.
As the Board of Trustees we are keeping a vigilant watch over the CDC Guidelines and
Recommendations. We will post and share any pertinent information to all of you on the
website and one of us will post on the PLE Neighbors Connection Facebook Page. We
are doing this to share what we're doing to protect our community, vendors and
employees. We'll also share resources and any updates as to how you can continue to
communicate with us if needed.
How we're here to serve you:
We have plans in place to continue to answer your emails during times like these.
Please email the office at
pleoffice@centurylink.net
for any inquiries related to lake
business only. However, during this time the office will not be open. We will not issue
gate cards, or lot improvement forms or any other things that need in office attention.
We are asking Cheryl to work from home during this time. She will only have access to
emails while she is working from home.
We're closely following the recommendations of federal, state, and local authorities to
make the best decisions for our customers, clients, vendors and community.
Please practice Social Distancing, Safe Hand washing and Stay Home if you are
sick. Please do not visit with your neighbor if they have travelled outside of
the immediate area. Social Distancing is proven to reduce the risk of
transmission.
Thank you,
PLE Board of Trustees
Assessment Reminder:
Special Assessments for Lake Dredging Fund and the 2020 Newsletter were mailed on January 23, 2020. Please contact the office if you have not received yours. Special Assessments are due March 1, 2020. 

Yearly Assessments are now due July 1st of each year.   In 2017 Yearly Assessment were approved to increase 3% each year for five years. Assessments for the year 2020 are $355.00 for Primary Lots and $80.00 for Secondary Lots.  The Special Assessment for Lake Dredging is $275.00 per year, due March 1st of each year, for the next three years.  Any question or to receive your balance please contact the office during business hours.  The next newsletter will be mailed with your invoice for Special Assessments. 
The board received a request from a lot owner, to provide a spending plan for the Special Assessment for Lake Dredging. Please see the letter of request below. 
Special Assessment Money Spending Plan – Request from lot owner
Request from Board Member, Michael Tucker – Roads:
The roads department would appreciate lot owners assistance to keep low hanging limbs cut back along the roads. Any question please contact the PLE office.   
Fish Stocking:
On October 31, 2019, we put 450 9″- 12″ Catfish, 200 4″- 6″ Red ear Sunfish and 200 4″-6″ Black Crappie into the lake. If you catch any of these please return them to the lake. Remember, release bass that are between 12" – 15". These are the breeding fish. Anglers are encouraged to remove bass that are less than 12".